After a long battle with Covid-19, the Indian auto industry seems to be treading on the road to recovery. There is a lot of buzz in the market about a variety of new and innovative bikes to be released in 2022. With the launch of ADVs, sports bikes, naked cruisers, budget bikes, two-wheeler buyers in India will surely be spoiled for choices.
Most two-wheeler aspirants need the support of a two-wheeler loan to get the vehicle of their choice. If you too are contemplating the idea of buying a two-wheeler, you can always take the help of a two wheeler loan and finance a bike or scooter or even a superbike.
Though a two-wheeler loan makes buying a bike easier, a little homework from your side can help you get a good deal. It is recommended that along with a market survey on the best bike, you also go through the two wheeler interest rate that is offered by banks. The range of interest rates varies from 6.60% to 28.0%.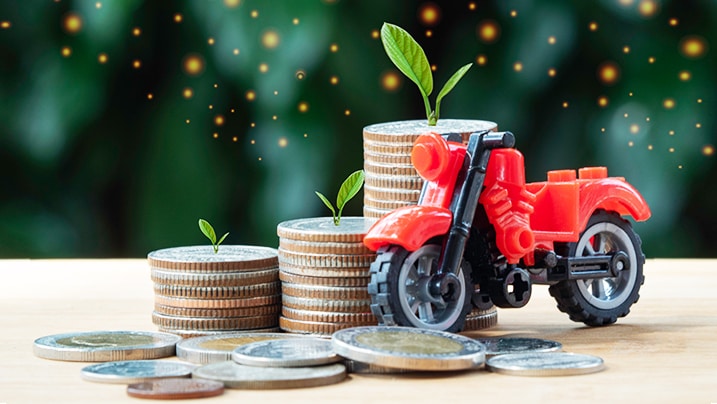 Given below is a table to help you compare the best banks for 2-wheeler loans with interest rates below 10%. Along with the two-wheeler interest rate, the table also shows an indicative EMI that you may have to pay to a loan amount of INR 1 lakh for a tenure of 3 years:
| Name of the Bank | Two-Wheeler Interest Rate | EMI |
| --- | --- | --- |
| Bank of India | 6.85% | INR 3,081 |
| Canara Bank | 9.00% | INR 3,180 |
| Central Bank | 7.25% | INR 3,099 |
| IDBI Bank | 9.80% | INR 3,217 |
| J & K Bank | 8.70% | INR 3,166 |
| Punjab National Bank | 8.65% | INR 3,164 |
| Punjab & Sind Bank | 8.80% | INR 3,171 |
| Union Bank | 9.90% | INR 3,222 |
Things to keep in mind when taking a two wheeler loan:
Compare the loans being offered on various parameters such as:

Eligibility criteria
Rate of interest
Repayment tenure
Processing fee
Loan to value ratio
Other fees and charges

While comparing two wheeler interest rate is important, what is equally crucial is to read between the lines and understand the other fees and charges. For example, if you are hopeful of pre-closing the loan, a bank charging a lower pre-closure fee may be a better idea.
A healthy credit score of 750 and above will make you a preferred applicant. Banks may offer you a lower rate of interest.
Complete the required paperwork in advance to ensure a quicker loan approval process. Most banks ask for:

Identity Proof
Proof of Income
Proof of Address
Other KYC details

Make use of an online bike EMI calculator. Such calculators are free online tools that give you a fair idea of the monthly instalment that you'll have to pay against the two-wheeler loan. Increase or decrease the variables such as loan amount and repayment term to reach the best decision.
Conclusion
A two-wheeler is a preferred mode of transport in many Indian households. And why not it is affordable, practical, time-saving and easy to maintain. If you have your eyes set on a particular brand and model, explore the mentioned banks and get the best two-wheeler loan. Compare the features available as well as the two wheeler loan interest rate offered by different banks. A detailed analysis will help you in making the right decision.